Been awhile since my last update...the Christmas season has been putting me in a bad mood for the last bunch of years...I always get kind of down around the holidays. So hence, I end up in super lazy mode...But, with each passing day, shit improves...Bring on 08!!
So, last entry I wrote about my truck...still sitting there as I have no cash to fix it...and to make matters worse, a couple of weeks ago, some dickless fuck stain put a brink through one of my windows...So, more shit to fix...On the upside, the busted the side that is already trashed...
On the Cardiac front, the new album is about ready for mastering. The second mix was a real winner...just a few more tweaks and it is ready to go...The layout is about 95% done as well. We are projecting a mid February release, but don't quote me on that just yet...
We'll be playing in Milwaukee on Saturday night with our buddies, Face of Ruin...I am sure this show will go a lot smoother than our last Wisconsin trip (read the Sept blogs for the excitement that happened) At any rate, we are looking forward to the show...It will be our first one since Sept and we will be playing mostly new material...I'm sure I'll do a write up on it on Sunday sometime...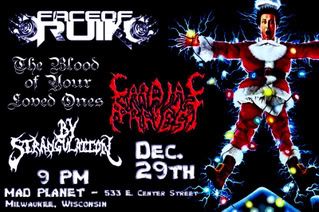 I'll have another update soon on some shows we will be doing in 2008...We are already confirmed on three fests...More details as the become available...
On the Severed front, Free Cuts is mixed...Our drummer Danny and studio guru Alex done it as I am kind of immobile right now. Can't wait to hear it. Almost there!!! It's a long time coming!!
Hope everyone had a good Xmas!! Be safe on New years as well!!